Eastern Colorado Veterinary Services is proud to serve Limon, CO and surrounding areas. We are dedicated to providing the highest level of veterinary medicine along with friendly, compassionate service.
We believe in treating every patient as if they were our own pet, and giving them the same loving attention and care. We are a group of highly trained, experienced animal lovers who are devoted to giving our patients the best care possible.
Meet Our Team
Eastern Colorado Veterinary Services prides itself on having a focused staff that are specially trained to assist you with your companion animal and production animal needs. We strongly believe teamwork is the best way to accomplish being our clients' best resource for veterinary care.
Dr. Leesa McCue – DVM
Leesa McCue, DVM, is a mixed animal practitioner and founder of Eastern Colorado Veterinary Services. Leesa's background is in rural agriculture, being raised on a farm and ranch in the Idalia, Colorado area. She received her Doctor of Veterinary Medicine degree in 1993 from Colorado State University in Fort Collins, Colorado, and started her veterinary career in the Limon area that same year.
Dr. McCue enjoys the challenges and rewards of a mixed animal practice, whether it's radiographing a dog leg, or pulling a calf. She is always ready to discuss the veterinary field with students and has always conducted mentoring for young people interested in the field. Leesa also has contributed to her professional associations over the years with Colorado Veterinary Medical Association, and the Colorado Veterinary Medical Foundation. Locally, Leesa also is committed to giving back to the community as a board member of the Limon Child Development Center and the Colorado Agricultural Leadership Program.
Dr. McCue continues to make her home in Arriba, Colorado with husband Troy, and children Mercedes and Austen. They share their home with two cats, Sugar and Kiana, and a Boston Terrier, Bonny. Family can always be found in and around the clinic as Leesa truly enjoys all aspects of family life, whether at work or at home. When she gets time, she also enjoys roadside photography, gardening, vacationing with the family, and taking care of the family's cow herd north of Burlington.
Dr. McCue truly feels blessed to work and raise her family in a rural agricultural community like Limon. She looks forward to many years of continued service to the veterinary profession and Eastern Colorado.
---
Devin Schinzel – Certified Veterinary Technician
Devin Schinzel is a Credentialed Veterinary Technician who graduated from the Nebraska College of Technical Agriculture (NCTA) in 2007 with an Associates in Applied Science in Veterinary Technology with a minor in Agriculture Production.
Devin's passion for veterinary medicine began in high school when he volunteered at the local veterinary clinic and began raising his own livestock. After college, Devin gained additional experience by doing an internship in Arkansas in a small, rural mixed animal practice. Following this internship, he worked at a mixed animal practice in Nebraska for three years. There he gained a good working knowledge of veterinary clinic operations, as well as production animal and companion animal care.
Devin is married with three children. They operate a diversified agriculture program and share their home with their two dogs Myra and Jazzy.
---
Elizabeth Martin – Administrative Assistant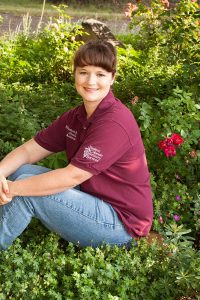 Born in Westminster, Colorado, Elizabeth has always been a big city girl with a small town heart. Growing up, Elizabeth dreamed of working with animals in whatever capacity she was able. From helping family members with cleaning stalls to offering basic training for the neighborhood puppies, she found ways to stay close to her passion for animal care as she grew up.
In college, Elizabeth shifted her focus to her second passion – books. She went to Western State College University in the small town of Gunnison, Colorado where she earned a bachelor's degree in English literature and a minor in Philosophy. She also earned a bachelors in Computer Science which she currently utilizes working part time with her husband at his business, Evergreen Systems and Technology in Limon.
Elizabeth met local James Martin in college and they married in 2010. They currently reside on his family's farm/ranch in Genoa. James opened his business when they first moved back home and for a while they both worked there full time; that is, until Elizabeth was given the opportunity to join the Eastern Colorado Veterinary Services team in the fall of 2014. Returning to her original passion of animals has been a joy for Elizabeth and she looks forward to assisting the pets and their people every day.
Elizabeth and James have their own small menagerie including 4 dogs – Keira, Pauley, Seeley and Fezzik; 7 cats, 2 goats, a bunny, a fish and a handful of chickens and turkeys. They also have their son JJ to keep them young and active.
If you have any questions about how we can care for your pet, please don't hesitate to call us at (719) 775-8166. Thank you!